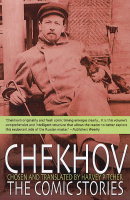 Chekhov : the comic stories
0233000380 / 9780233000381
Orders placed today are expected for despatch on 02/11/2018
general Learn More
academic/professional/technical
Reprint. This translation originally published: 1998.
By the time he was 28, Anton Chekhov had published more than 500 short works of fiction, about half of them comic stories and farces.
Since then, it has been well documented that these works, dashed off while he was "chasing two hares at once" - his medical career and his modest literary pursuits - were carried out largely to pay the bills.
Harvey Pitcher has selected and translated approximately forty of these short stories, all of which reflects a genius for comedy which is as fresh and entertaining now as it was then: simple sketches that are like verbal cartoons or comic scripts; outrageous parodies and stories with a comic twist; satirical and subversive sketches that anticipate the anti-authoritarian attitudes of his later work and excursions into the absurd that foreshadow his unconventional approach to stage dialogue. Originally published by Andre Deutsch in 1988, this is the first time the book has been available in paperback.
It has been revised by the author to include fourteen brand new stories.
Publication coincides with the centenary of Chekhov's death.
BIC:
* Variable discounts between 0% and 15% are applied to items where BBfS cannot determine exact discounts from suppliers.