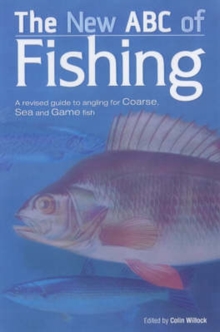 The new ABC of fishing : a revised guide to angling for coarse, sea and game fish (Rev. ed)
0233000267 / 9780233000268
24 cm 356 p., [24] p. of plates : ill. (some col.)
The New ABC of Fishing is a fully revised and updated of the classic guide to the sport first published in 1963.
It contains sections on coarse, game and sea fishing and includes advice about basic equipment as well as giving invaluable information about every type of fish likely to be caught in British waters - and how to catch them.
The entries are arranged alphabetically, within the sections, and comprise a description of the fish and its behaviour patterns, as well as suggestions about bait, tackle and technique, together with a note on the latest record catches.
The editor, Colin Willock, in his thorough revision of the text, has been faithful to spirit of the original contributors - experts such as Clive Gammon and F.W.
Holiday - whilst bringing the reader up to date with all the latest developments in the sport.
The authoritative and lively text is supplemented by magnificent artwork by Eric Tenney.
BIC: