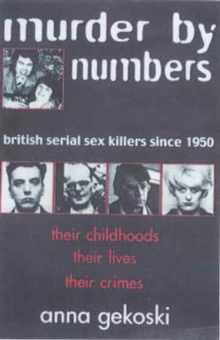 Murder by numbers : British serial sex killers since 1950
0233000070 / 9780233000077
Orders placed today are expected for despatch on 28/10/2018
20 cm x, 388 p., [16] p. of plates : ill.
Reprint. Originally published: 1998.
In Murder by Numbers, Anna Gekoski asks 'A child, we must assume, is born innocent, not a potential serial killer...What happened to the child who becomes a serial killer?' Now republished in a smaller format with a new lower price, this is an incisive and compelling book in which the author provides the first serious attempt to compare and contrast the lives and crimes of nine high-profile British serial sex killers.
From John Christie and Dennis Nilsen to Colin Ireland (with whom the author corresponded during her research, letters quoted extensively) and the Wests, this disturbing study examines the patterns behind the backgrounds that led these individuals to commit such appalling acts of brutality.
BIC: