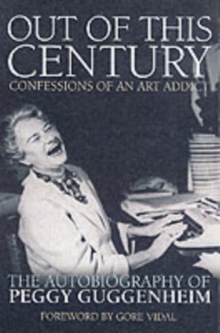 Out of this century : confessions of an art addict
0233001387 / 9780233001388
20 cm xviii, 396 p., [40] p. of plates : ill. (some col.)
Reprint. Originally published: 1979.
Known as 'the Mistress of modern art', Peggy Guggenheim was a passionate collector and major patron.
She amassed one of the most important collections of early 20th century European and American art embracing cubism, surrealism and expressionism.
A 'poor little rich girl', (her father, Benjamin, went down with the Titanic in 1912), she was magnetically drawn to the avant-garde artistic community of Paris.
She bought works by, and befriended, such artists as Picasso, Duchamp, Man Ray and Dali.
In 1938 she opened her first gallery of modern art in London, followed by the 'Art of this Century' gallery in New York.
Then, after a 4-year marriage to Max Ernst, she returned to Europe, setting up her collection in Venice where she lived until her death in 1979.
This is the fascinating autobiography of a society heiress who became the bohemian doyenne of the art world.
Written in her own words it is the frank and outspoken story of her life and loves: her stormy relationships with such men as Max Ernst and Jackson Pollock, of artistic discoveries and the excitement of promoting great work. A must read for anyone with an interest in these major league artists, this seminal period of art history, and the ultimate self-invented woman.
BIC:
ABQ Art: financial aspects, ACX History of art & design styles: from c 1900 -, BGA Autobiography: general