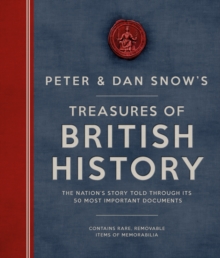 Peter and Dan Snow's treasures of British history
0233002189 / 9780233002187
112 pages : illustrations
Told by two of our most celebrated historians, this is a spirited examination of our nation's history seen through 50 key documents.
With a wealth of experience between them on political and military history and today's current affairs, Peter and Dan Snow are the perfect guides to appreciating the significance of each document and helping the reader to understand and enjoy Britian's rich and complaex history.
These fascinating records are beautifully set out next to a commentary from the authors explaining their criteria for each selection and its importance.
Ten documents are faithfully reproduced in facsimile form, bringing a tangible sense of history to the book.
From the Magna Carta to Tim Berners Lee's memo for a World Wide Web, this is a must-have volume for all history enthusiasts with a unique perspective.
BIC:
1DBK United Kingdom, Great Britain, HBJD1 British & Irish history