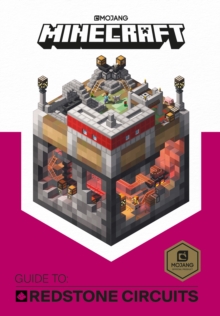 Minecraft Guide to Redstone Circuits
1405290099 / 9781405290098
Want to give yourself the upper hand in Survival mode?
Become an advanced redstone engineer with the official Minecraft Guide to Redstone Circuits.
Learn how to build everything from a flying machine engine and an advanced minecart system to an automatic messenger system and a redstone shop. With insider info and tips from the experts at Mojang, this is the definitive guide to creating advanced redstone circuits. Collect all of the official Minecraft books to become the best Minecrafter you can be:Minecraft Guide to ExplorationMinecraft Guide to CreativeMinecraft Guide to The Nether and the EndMinecraft Guide to RedstoneMinecraft Guide to Enchantments and PotionsMinecraft Guide to PVP MinigamesMinecraft Guide to FarmingMinecraft BlockopediaMinecraft Exploded Builds: Medieval FortressMinecraft: The Survivors' Book of SecretsMinecraft Survival TinMinecraft: The Ultimate Construction CollectionMinecraft is a multi-platform block-based gaming sensation available on Xbox, PlayStation, PC and mobile devices.
Whether you're in Creative, Survival or Hardcore Mode, the official Mojang-approved Minecraft books contain all the advice you need to survive and thrive.
BIC:
YFC Adventure stories (Children's / Teenage), YNVU Computer game guides (Children's / Teenage)
* Variable discounts between 0% and 15% are applied to items where BBfS cannot determine exact discounts from suppliers.