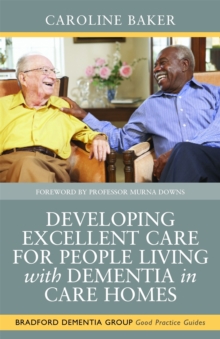 Developing excellent care for people living with dementia in care homes
1849054673 / 9781849054676
Stock expected by 15/07/2020
The award-winning PEARL (Positively Enriching and enhancing Residents' Lives) programme was developed to enable care homes to move from providing good fundamental care to excellent person-centred dementia care.
Trialled extensively by one of the UK's largest care providers, it has been proven to dramatically increase the quality of life of people with dementia living in care homes, significantly reducing the use of antipsychotics and the incidence of stress-related behaviours.
This concise and accessible guide, written by the Director of Dementia Care at the care provider which trialled and developed PEARL, describes the key criteria of the programme, and provides best practice guidelines for dementia care practitioners wishing to use the approach in their own care home.
With an emphasis on the practical, achievable elements of the programme, and drawing on many useful examples, the author and contributors provide guidelines on, amongst many things, getting the fundamentals of person-centred care right; enabling decision-making; reducing stress-related behaviours; psychosocial treatments; safeguarding; supporting staff; and involving relatives.
BIC:
JKSG Care of the elderly, MJND Alzheimer's & dementia, MQCL4 Geriatric nursing