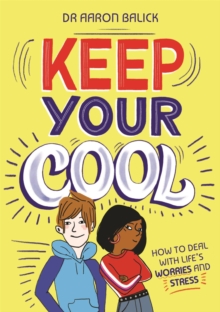 Keep your cool : how to deal with life's worries and stresses
144517104X / 9781445171043
25 cm 112 pages : illustrations (colour)
Reprint. Originally published: 2013.
Does life keep making you stressed, worried and unable to achieve what you want?
Then this book is for you! Deal with bullying, family strife, exam panic and what it means to be you, as well as many other issues with Keep Your Cool.
A vast selection of exercises, including yoga, breathing exercises and rationalising activities, will help you to stay focused and in control.
Written by clinical psychotherapist Dr Aaron Balick, who has nearly 20 years in the field, this book draws on his experience with working with young people directly in schools, providing answers to real-life issues. By to building your life skills and resilience, this book will keep you cool, calm and collected in the modern world.
BIC:
4KHJ For National Curriculum Key Stage 2, 4KHN For National Curriculum Key Stage 3, 5AL Interest age: from c 10 years, YXC Personal & social issues: bullying, violence & abuse (Children's / Teenage), YXF Personal & social issues: family issues (Children's / Teenage), YXL Personal & social issues: self-awareness & self-esteem (Children's / Teenage), YXS Personal & social issues: sexuality & relationships (Children's / Teenage)