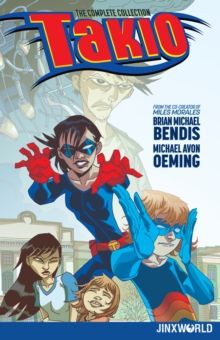 Takio: The Complete Collection
1401290639 / 9781401290634
Takio tells the story of two sisters in a multiracial, adoptive family who are driving each other insane!

Their overprotective mother makes them walk to school together, eat lunch together, and play together. They can't get away from each other. But when a one-of-a-kind, once-in-a-lifetime accident gives them real-life superpowers, these two sisters become the first actual superheroes in the entire world. And it is awesome!

Now the sisters have to learn to get along, so they can save the world and get home by six... or they are so grounded.

DC Jinxworld releases an all-new edition of the fan-favorite young readers title, Takio, written by the legendary New York Times bestselling author Brian Michael Bendis and illustrated by celebrated artist, Michael Avon Oeming.

Brian Michael Bendis's critically acclaimed Jinxworld library now comes to DC! These classic, award-winning graphic novels, including Jinx, Torso, Powers, Goldfish, Brilliant, Takio, and Scarlet, among others, will now be re-released under the DC banner. These beloved, hard-to-find Jinxworld titles will be accompanied by new stories from continuing series like Powers, Scarlet, and The United States of Murder Inc., as well as new series such as Pearl and Cover. Catch up with the vast library of graphic novels from one of the greatest comics creators ever with Jinxworld!
BIC:
Title Unavailable: Out of Print