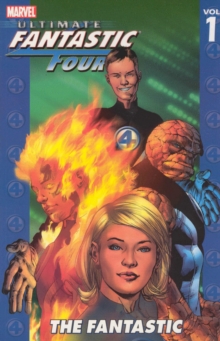 Ultimate Fantastic Four Vol.1: The Fantastic
0785113932 / 9780785113935
168 x 258 mm, 304 grams 144 pages, 1 Illustrations, unspecified
The World's Greatest Comic Magazine - and subject of the upcoming blockbuster motion picture - at long last makes its long-awaited debut in the Ultimate Marvel Universe!
Witness the beginnings of the Four - Reed Richards, Johnny Storm, Susan Storm and Ben Grimm - super-hero icons for the new century!
When high-school genius Reed Richards enrolls at a secret government-sponsored school for the most gifted minds in the world, he unwittingly starts himself and his friends on the journey of a lifetime!
A story about science, adventure, and above all else family, set in the most dynamic and unpredictable universe in the comic-book world!
This work collects "Ultimate Fantastic Four" Numbered 1-6.
BIC:
Title Unavailable: Out of Print