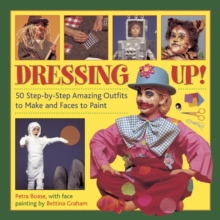 Dressing up! : 50 step-by-step amazing outfits to make and faces to paint
1843229145 / 9781843229148
21 cm 96 pages : illustrations (colour)
This title features easy-to-make, effective costumes and fantastic disguises using everyday materials.
It includes animals galore: a bumble bee, a cat, a lion and a tiger, a monkey, a mouse, a panda, a rabbit, a spotted dog and many more.
It includes fun fantasy figures, such as a clown, a fairy, a pirate, a genie, a space-age astronaut and robot - or you can take on a new secret identity as a super hero or heroine!
There are plenty of ghouls, ghosts and monsters, too, including a wicked witch, an Egyptian mummy, a mad Martian, a sinister skeleton, and a villainous vampire.
All the projects are easy to follow, with step-by-step photographs and safety hints throughout.
It offers ideas for all children aged 7 to 12, either to make themselves or with adult supervision.
Kids love dressing up and creating fantastic disguises.
Face painting is always popular, too, whether it's for a party, a play, or just for fun.
This ingenious book contains 50 ideas for creating costumes at home, with expert instruction for wonderful face-painting designs that will completely transform the wearer. The projects include cute animals, fabulous fantasy figures, and creepy characters for the most terrifically horrific halloween ever.
The costumes are simple to make, and don't involve any special materials.
Many of them can be made by adapting old clothes, or by recycling materials such as boxes, foil or paper.
These and the wonderful make-up techniques are all clearly illustrated in 400 step-by-step photographs to guide you through every stage - so start collecting, gluing, stitching and painting for hours of dressing-up fun!
BIC:
5AH Interest age: from c 7 years, YNP Practical interests (Children's / Teenage)