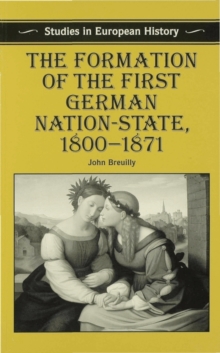 The Formation of the First German Nation-State, 1800-1871
0333527186 / 9780333527184
140 x 216 mm, 215 grams 160 pages, XIII, 160 p.
A / AS level Learn More
Further/Higher Education
Undergraduate
Many accounts of German unification focus on war, diplomacy and Bismarck and on the crucial ten years up to 1871.
John Breuilly, in addition to paying attention to those issues extends the analysis back to 1800.
He also takes into account social, economic and cultural developments, bringing to the reader's attention recent research, much of it in German.
In particular, the book argues that one should see unification as just one possible outcome of the German situation, the result of rapid shifts in the relative power of different European states and of underlying changes which made nationality a more vital force in politics.
BIC:
1DFG Germany, 3JH c 1800 to c 1900, 4KL Designed / suitable for A & AS Level, HBJD European history, HBLL Modern history to 20th century: c 1700 to c 1900, HBTB Social & cultural history, KCZ Economic history