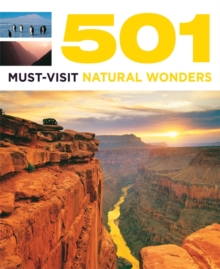 501 Must-See Natural Wonders
0753725967 / 9780753725962
188 x 225 mm, 1294 grams 544 pages
Illustrated with stunning photography, this book provides realistic advice about visiting these sometimes remote corners of the world.
You will find unimaginable wonders described here, from the world's most active volcano to the lake that is so deep that it would take all of the world's rivers more than a year to fill it.
Split into countries, with handy side notes on each attraction, there is a marvel for everyone whether that's the world famous Grand Canyon or Great Barrier Reef or perhaps the lesser-known gems such as the Shirakami-Sanchi Forest or the hauntingly beautiful Wrangel Island.
There is a wealth of wonders here to exhaust even the most intrepid of armchair travellers.
BIC: