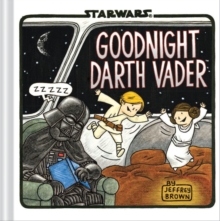 Goodnight Darth Vader
1452128308 / 9781452128306
17 cm 64 pages : illustrations (colour)
It's time for a Star Wars bedtime story in a galaxy far, far away, and Darth Vader's parenting skills are tested anew in this delightful follow-up to the breakout New York Times Star Wars books bestsellers Darth Vader (TM) and Son and Vader's (TM) Little Princess.
In this Episode, the Sith Lord must soothe his rambunctious twins, Luke and Leia-who are not ready to sleep and who insist on a story.
As Vader reads, the book looks in on favorite creatures, droids, and characters, such as Yoda, R2-D2, Han Solo, Chewbacca, Darth Maul, Admiral Ackbar, Boba Fett, and many others as they tuck in, yawn, and settle down to dream.
As ever, Jeffrey Brown's charming illustrations and humor glow throughout, playing on children's book conventions to enchant adults and kids alike.
This Star Wars makes a fun, unique pregnancy gift, a new Dad gift, or funny new parent gift! (c) and TM Lucasfilm Ltd. Used Under Authorization
BIC: