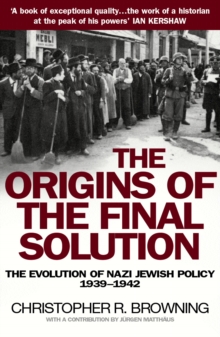 The origins of the final solution : the evolution of Nazi Jewish policy, September 1939-March 1942
0099454823 / 9780099454823
Reprint. Originally published: London: William Heinemann, 2004.
'This is a book of exceptional quality - The work of a historian at the peak of his powers, a magisterial study, a profound analysis of how the darkest chapter in human history could come about.' - Ian Kershaw, bestselling author of "Hitler". "The Origins of the Final Solution" is the most detailed, careful, and comprehensive analysis to date of the descent of the Nazi persecution of the Jews into mass murder.
Arguing that genocide was not a preconceived plan but rather a discovered possibility, Christopher Browning explains how the decision to murder the Jews en masse emerged in stages and by a process of elimination that gradually foreclosed plans for their expulsion from Europe.
Only in the interval between late September and late October 1941 did the desire to 'remove' the Jews intersect with the discovery of acceptable means of killing them on a large scale and with the euphoria of expected victory in Russia, all of which followed on from two years of 'race war' and 'racial imperialism' in eastern Europe that prepared 'ordinary Germans' for this fateful task.
Author Bio: Christopher Browning is Professor of History at the University of North Carolina at Chapel Hill. His previous books include "Ordinary Men: Reserve Police Battalion 101 and the Final Solution in Poland" (1992); "The Path to Genocide" (1992); "The Final Solution and the German Foreign Office" (1978) and "Nazi Policy, Jewish Labour, German Killers" (2000).
Praise for "Origins of the Final Solution":' This magisterial work...An unrivaled account of how the Nazi leadership ended up with a policy of industrialized mass murder of Jews-Probably no one is better qualified for this task than Christopher Browning.' - Mark Mazower in the "New York Times". 'Browning is persuasive because he marshals his evidence with unrivalled skill and writes with awesome clarity.' - "Literary Review".
BIC:
HBJD European history, HBTZ1 The Holocaust, HBWQ Second World War