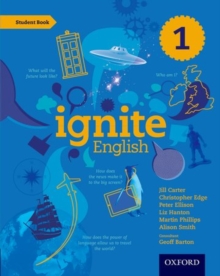 Ignite English: Evaluation Pack
0198377894 / 9780198377894
235 x 327 mm, 1199 grams 1 pages
Ignite English aims to excite and motivate teachers and students by making learning relevant and supporting teachers.
Addressing key concerns raised in recent Ofsted reports as well as meeting the needs of the new KS3 National Curriculum, the Student Books are structured around thematic units that cover a variety of forms as well as including unique immersive production based-units, and are also available as Online Student Books.
Each Teacher Companion provides a range of activities and guidance that enables teachers to customise their teaching to suit individual student needs as well as sharing the thinking behind the resources.
Kerboodle, which is packed full of resources to help teachers create and run effective lessons, is intuitive to use, customizable, and accessible from online anytime and anywhere.
Ignite English Kerboodle includes: 18 exclusive interviews providing over 60 unique and compelling films, connecting learning in the classroom to skills used in thematically-linked jobs; specially commissioned filmed units providing CPD for English departments; materials supporting the transition from Year 6 to Year 7; grammar support for teachers and students and much more. The Ignite English Evaluation pack offers you the chance to sample the course for 90 days.
BIC:
4KHN For National Curriculum Key Stage 3, YQC Educational: English language & literacy