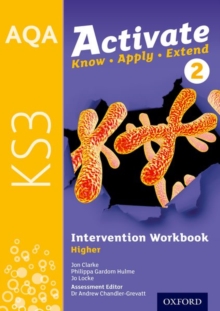 AQA activate for KS3Intervention workbook 2 (higher)
0198426690 / 9780198426691
For students following AQA's Key Stage 3 syllabus, Activate for AQA now has brand-new Intervention Workbooks to support them on their journey to GCSE success.
Carefully designed Intervention tasks and a new Pinchpoint tool tackle key concepts and ideas through self-assessment to help students identify areas for improvement and extension.
A large variety of practice questions, activities, and checklists provide plenty of opportunity to build skills and confidencethroughout the course. Key features:The Intervention Workbooks are designed to tackle key concepts and ideas in science with intervention strategies designed by assessment expert Dr Andrew Chandler-Grevatt.
They include: carefully designed 'Pinchpoint' diagnostic questions for self-assessment, which will help students identify areas for improvement tailored follow-up activities to help students address problem areas and make progress structured activities linked to the differentiated Know, Apply, Extend outcomes of the Activate for AQA coursefurther revision questions linked to learning outcomes for further support.
The activities and interventions in this Higher Workbook focus on extending students' knowledge and supporting them in developing higher-order skills.
BIC:
4KHN For National Curriculum Key Stage 3, YQS Educational: Sciences, general science