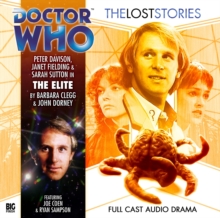 184435573X / 9781844355730
Usually dispatched within 4 weeks
Performed by Peter Davison . [et al.].
The Doctor offers Tegan and Nyssa a trip to the paradise world of Florana, but instead the TARDIS takes them to a domed city on a planet scarred by warfare.
A world where everyone is young, and fighting for the glory of the Elite. And hidden away in The Cathedral of Power, the High Priest is watching.
BIC: