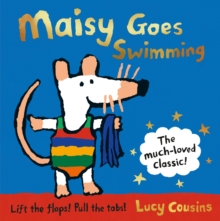 Maisy goes swimming
Part of the MAISY series
1406374040 / 9781406374049
20 cm 18 unnumbered pages : chiefly illustrations (colour)
Reprint. Originally published: 1990. Lift-the-flap book Pull-the-tab book.
Celebrate twenty-five years of Maisy with this classic novelty book reissue!Help Maisy get changed for her swimming lesson in this charming and original children's book by the multi-award-winning Lucy Cousins that was first published by Walker Books twenty-five years ago.
Lift the flaps and pull the tabs to turn taps, open doors and make clothes move up and down.
It's time for Maisy to put on her colourful striped swimsuit and there's lots of early learning colour fun to be had: first she takes off her blue hat and scarf, then her red coat, her grey cardigan, her green trousers, her brown boots, her purple T-shirt, her yellow socks, her orange bloomers, and puts on her swimsuit and goes for a swim!
Visit her amazing website - www.maisyfun.com - for activities, newsletters, games and more.
BIC: