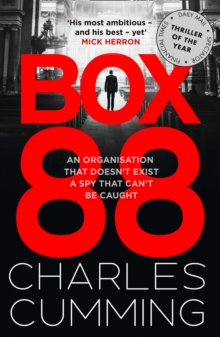 Box 88
Part of the BOX 88 series
0008200394 / 9780008200398
Reprint. Originally published: 2020.
An organisation that doesn't exist. A spy that can't be caught. Years ago, a spy was born... 1989: The Cold War will soon be over, but for BOX 88, a top secret spying agency, the espionage game is heating up.
Lachlan Kite is sent to France to gather intelligence on the Lockerbie bombing.
What he uncovers is terrifying... Now he faces the deadliest decision of his life... 2020: Kite has been taken captive and brutally tortured.
He now has a choice: reveal the truth about what happened in France thirty years earlier - or watch his family die. In a battle unlike anything he has faced before, Kite must use all his skills to stay alive. 'A spy for the 21st century'Daily Mail, Books of the Year 'Wonderfully taut, exciting and up-to-date'Spectator, Books of the Year 'An ambitious fusion of coming-of-age novel and gripping espionage thriller'Financial Times, Books of the Year 'BOX 88 is so good.
Charles Cumming is up there with the very best espionage writers' Ian Rankin 'A wonderful spy novel; Charles Cumming's most ambitious - and his best - yet' Mick Herron 'Charles Cumming has breathed new life into the spy novel' Ben Macintyre 'Atmospheric and full of sharply realised characters' Sunday Times 'A clever thriller' Sun 'Intelligence, grace, and stunning verisimilitude' Gregg Hurwitz 'An engaging hero' James Swallow 'All the hallmarks of the finest spy thriller' Charlotte Philby 'Sharp-eyed and satisfying' Henry Porter 'A great new spy hero is born' Amanda Craig 'Ideal for anyone nostalgic for their first love and the whiff of Marlboro Lights' The Times
BIC:
1DBK United Kingdom, Great Britain, 1DDF France, 3JJP c 1945 to c 2000 (Post-war period), 3JMG c 2010 to c 2020, FHD Espionage & spy thriller