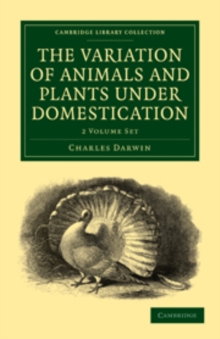 The Variation of Animals and Plants under Domestication 2 Volume Paperback Set
1108014240 / 9781108014243
Usually dispatched within 4 weeks
250 x 325 mm, 1400 grams 922 pages
Charles Darwin (1809-1882) first published this work in 1868 in two volumes.
The book began as an expansion of the first two chapters of On the Origin of Species: 'Variation under Domestication' and 'Variation under Nature', and it developed into one of his largest works; Darwin referred to it as his 'big book'.
Volume 1 deals with the variations introduced into species as a result of domestication through changes in climate, diet, breeding and an absence of predators.
In volume 2, concerned with how species inherit particular characteristics, Darwin first published his 'provisional hypothesis' of pangenesis, and challenged the theories of evolution by design.
The work is a masterpiece of nineteenth-century scientific investigation; it is a key text in the development of Darwin's own thought and of the wider discipline of evolutionary biology.
BIC: