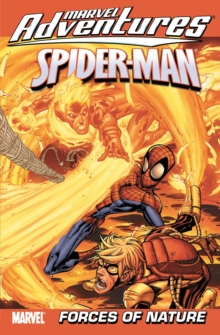 Power struggle - Vol. 8 : Forces of Nature
Part of the Digest series
0785125256 / 9780785125259
21 cm 96 p. : chiefly col. ill.
Y'know, some people just don't like museums. They're cold, boring, super-villains are always stealing stuff - wait, what?
Yo! Grey Gargoyle! Stop stealing stuff! All right, fine...but you're gonna have to deal with Spidey!
Also, there's a stiff wind rustlin' its way through Manhattan, straight towards Spidey!
Awfully hard for our resident Wall-Crawler to crawl said walls when Whirlwind's blowin' 'em down!
All-new, all-ages, all-action fun featuring the these creeps and more super-villainy!
This title collects "Marvel Adventures Spider-Man" numbered 29-32.
BIC:
Title Unavailable: Out of Print