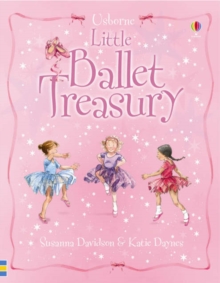 The Usborne little ballet treasury
0746076614 / 9780746076613
Reprint. Originally published: as The Usborne ballet treasury. 2004.
Beginning with the first ballet lesson, readers are taken through the basic exercises and ballet steps.
Chapters are included on the music and the stories of ballet, the costumes, the performances, and the famous dancers of the past including Anna Pavlova, Nijinsky and Margot Fonteyn.
BIC:
YBC Picture books, YNDB Dance, ballet (Children's / Teenage)