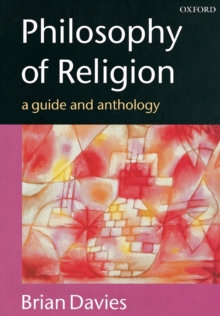 Philosophy of religion : a guide and anthology
019875194X / 9780198751946
Stock expected by 08/07/2022
Philosophy of Religion: A Guide and Anthology provides a comprehensive, authoritative, and accessible overview of the philosophy of religion.
Under the careful editorship of Brian Davies, the book contains a selection of the best classical and contemporary writings on the philosophy of religion together with substantial commentary, introductory material, discussion questions, and detailed guides to further reading.
The editorial material sets the extracts in context and guides the reader through them.
Taken as a whole, the book offers the ideal, self-contained introduction to the questions which have most preoccupied Western philosophers when thinking about religion.
The selection is both very comprehensive and very generous. 65 sizeable extracts map out the full range of topics most commonly encountered in courses on the philosophy of religion.
Part I looks at the relation between philosophy and religious belief; Parts II-IV consider the existence and nature of God; Part V addresses the 'problem of evil'; and Parts VI and VII are devoted to the relationship between morality and religion and to the question of life after death.
BIC:
HPC History of Western philosophy, HRAB Philosophy of religion