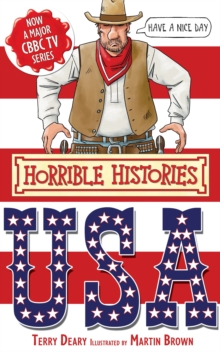 140711185X / 9781407111858
22 cm 192 p. : ill., maps
Reprint. TV tie-in. Originally published: 2001.
Readers can discover all the foul facts about the USA, including which president was so scared of electric switches that he slept with his light on, why cowboys declared war on sheep and how to have a civil battle.
With a bold, accessible new look and a heap of extra-horrible bits, these bestselling titles are sure to be a huge hit with yet another generation of Terry Deary fans.
BIC:
1KBB USA, YNH History & the past: general interest (Children's / Teenage)