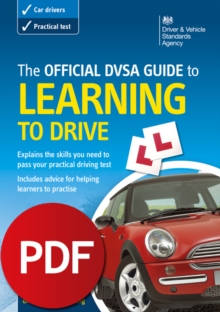 The official DSA theory test for car drivers. (16th ed., 2013 ed)
0115532315 / 9780115532313
21 cm 504 p. : ill. (chiefly col.)
Includes QR codes. Previous ed.: 2011.
This publication is the official theory test book for car drivers, compiled by the Driving Standards Agency.
It contains multiple choice questions from the whole theory test question bank, with answers and explanations, dealing with topics such as: alertness and attitude, vehicle safety and handling, safety margins, hazard awareness, vulnerable road users, motorway rules and rules of the road, road and traffic signs, documents, accidents, and vehicle loading.
BIC:
1DBK United Kingdom, Great Britain, VSF Roadcraft, driving & the Highway Code