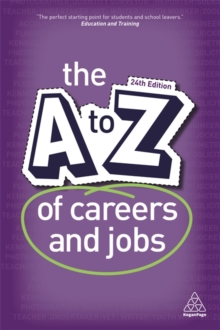 The A to Z of careers and jobs (24th edition)
0749479477 / 9780749479473
From accountant to zoologist, this new edition of The A-Z of Careers & Jobs offers detailed insights into more than 300 career areas in the UK.
For those looking for their first job after school or university, or for anyone considering a change of career, this book provides reliable and up-to-date careers advice on a wide range of professions, covering practical issues such as job opportunities and progression potential, personal skills and qualities, entry qualifications and training, useful contact details and realistic salary expectations.
The A-Z of Careers and Jobs is also a valuable reference for careers advisors working in schools, colleges and universities who need to keep track of new developments - new roles and routes of entry, professional associations and exams - to offer the very best guidance to today's jobhunters.
BIC:
1DBK United Kingdom, Great Britain, GBC Reference works, JNR Careers guidance, VSC Advice on careers & achieving success