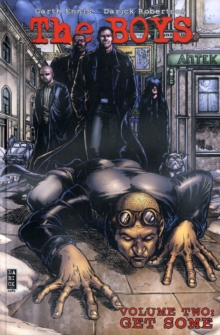 Get some
1845769244 / 9781845769246
26 cm 160 p. : chiefly col. ill.
From the sick and twisted mind of Garth Ennis, co-creator of "Preacher", and the vicious pencil of Darick Robertson, artist of "Transmetropolitan", comes a darkly hilarious story that will change the way you look at superheroes forever!Wee Hughie's joined The Boys, a group of covert operatives who police - and when necessary, punish - the super "heroes" (who are usually anything but).
His first full case? Investigate the murder of Swingwing, former partner of the Tek-Knight, a man with a fetish so disgusting you'll have to see it to believe it!This hugely controversial new series - which caused an uproar upon original publication - explores the sordid side of superheroics!
It is intended for adults only!
BIC:
Title Unavailable: Out of Print