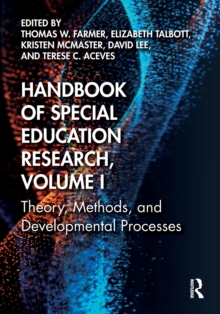 Handbook of special education researchVolume I,: Theory, methods, and developmental processes
0367708841 / 9780367708849
376 pages : illustrations (black and white)
Professional & Vocational Learn More
Tertiary Education (US: College)
Divided into two volumes, Handbook of Special Education Research provides a comprehensive overview of critical issues in special education research.
This first volume addresses key topics in theory, methods, and development, exploring how these three domains interconnect to build effective special education research.
Each chapter features considerations for future research and implications for fostering continuous improvement and innovation.
Essential reading for researchers and students of special education, this handbook brings together diverse and complementary perspectives to help move the field forward.
BIC:
JNS Teaching of specific groups & persons with special educational needs