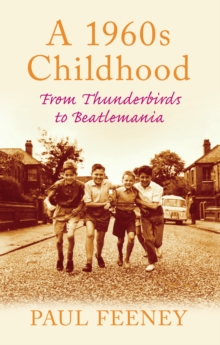 A 1960s childhood : from Thunderbirds to Beatlemania
0752450123 / 9780752450124
18 cm 238 pages : illustrations (black and white)
Do you remember Beatlemania? Radio Caroline? Mods and Rockers? The very first miniskirts? Then the chances are you were born in the or around 1960. To the young people of today, the 1960s seems like another age.
But for those who grew up in this decade, school life, 'mod' fashions and sixties pop music are still fresh in their minds.
From James Bond to Sindy dolls and playing hopscotch in the street, life was very different to how it is now.
After the tough and frugal years of the fifties, the sixties was a boom period, a time of changed attitudes and improved lifestyles.
With chapters on home and school life, games and hobbies, music and fashion, alongside a selection of charming illustrations, this delightful compendium of memories will appeal to all who grew up in this lively era.
Take a nostalgic look at what it was like to grow up during the sixties and recapture all aspects of life back then.
BIC:
1DBK United Kingdom, Great Britain, 3JJPK c 1960 to c 1970, WQN Nostalgia: general