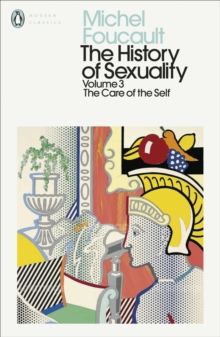 The history of sexualityVolume 3,: The care of the self
0241386004 / 9780241386002
General (US: Trade) Learn More
Professional & Vocational
Tertiary Education (US: College)
Translated from the French.
'Bristles with provocative insights into the tangled liaisons of sex and self' Times Higher EducationIn the third volume of his acclaimed examination of sexuality in modern Western society, Foucault investigates the Golden Age of Rome to reveal a decisive break from the classical Greek version of sexual pleasure. Exploring the moral reflections of philosophers and physicians of the era, he identifies a growing anxiety over sexual activity and its consequences.
At the core of this transformation Foucault found the principles of the 'care of the self': the belief that the self is an object of knowledge to be cultivated over time, and the implications this has for ethics and behaviour. 'Magnificent ... Foucault's great achievement is to illuminate an entire and cohesive body of thought.
It is brilliantly done' Daily Telegraph
BIC:
HBTB Social & cultural history, HPCA Western philosophy: Ancient, to c 500, HPCF7 Deconstructionism, Structuralism, Post-structuralism, JFCX History of ideas, JHBK5 Sociology: sexual relations, JMU Sexual behaviour