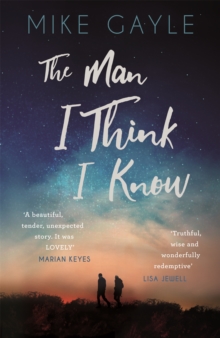 The man I think I know
1473608988 / 9781473608986
As seen on ITV in the Zoe Ball Book Club'What a beautiful, tender, unexpected story.
It uplifted me a lot. It was LOVELY' Marian Keyes'Mike Gayle is the king of touching, human stories, and this big-hearted book is his best yet' Heat, 5* This is the stunning new novel from bestselling author Mike Gayle, for fans of The Keeper of Lost Things and Eleanor Oliphant is Completely Fine.
A powerful and bittersweet story of an unexpected male friendship and an unlikely love story, a thought provoking storyline told with Mike's distinctive wit and insight, touching on issues which affect us all.
This uplifting tale reminds us of the simple courage at the heart of every human being. Ever since The Incident, James DeWitt has stayed on the safe side. He likes to know what happens next. Danny Allen is not on the safe side. He is more past the point of no return. The past is about to catch up with both of them in a way that which will change their lives forever, unexpectedly. But redemption can come in the most unlikely ways. *******************Praise for The Man I Think I Know'Beautifully written, thought-provoking and completely charming...reminds us that the everyday things we take for granted without realising how precious they are, can be snatched away in an instant with catastrophic consequences' Ruth Hogan'That rarest of things; a moving, beautifully written novel about male friendship...I absolutely loved it' Lisa Jewell'Mike is always wise and wonderful, but this is a whole new departure for him - read it!' Jenny ColganYou'll be both laughing and on the edge of tears with this brilliant read' Fabulous magazine*******************Readers are raving about this book!'This is one of those books that is tugging on your heartstrings one moment and has you laughing out loud the next - another stunning plot line and narrative from Mike Gayle.''I loved the narrative and I left this novel feeling totally uplifted . . . I now feel like there is some hope in the world!''This book is sad, funny, quirky, touching, heartbreaking but - and this is going to sound totally cliched and corny - life affirming.'
BIC: