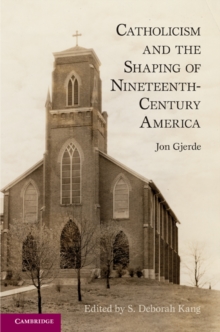 Catholicism and the shaping of 19th century America
1107010241 / 9781107010246
Stock expected by 01/03/2020
Offers a series of fresh perspectives on America's encounter with Catholicism in the nineteenth-century.
While religious and immigration historians have construed this history in univocal terms, Jon Gjerde bridges sectarian divides by presenting Protestants and Catholics in conversation with each other.
In so doing, Gjerde reveals the ways in which America's encounter with Catholicism was much more than a story about American nativism.
Nineteenth-century religious debates raised questions about the fundamental underpinnings of the American state and society: the shape of the antebellum market economy, gender roles in the American family, and the place of slavery were only a few of the issues engaged by Protestants and Catholics in a lively and enduring dialectic.
While the question of the place of Catholics in America was left unresolved, the very debates surrounding this question generated multiple conceptions of American pluralism and American national identity.
BIC:
1KBB USA, 3JH c 1800 to c 1900, HBJK History of the Americas, HBLL Modern history to 20th century: c 1700 to c 1900, HRCC7 Roman Catholicism, Roman Catholic Church