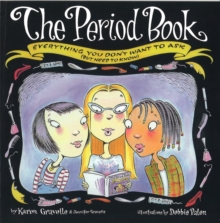 The period book : everything you don't want to ask (but need to know)
0749917059 / 9780749917050
18 cm viii, 117 p. : ill.
Teenage girls often have trouble discussing menstruation and sex with their parents.
They face the changes that are going on in their bodies without knowing many of the facts, and without much understanding of the emotional and practical problems involved.In this text, Karen Gravelle and her 15-year-old niece, Jennifer, offer practical answers to such questions.
They look at all the physical, emotional and social changes, as well as related issues such as dealing with spots, mood swings and new expectations from friends and family.
The book seeks to ease the confusion and exasperation many teenage girls might feel, and celebrates the new sense of power and maturity their period can bring.
BIC:
YXAX Personal & social issues: sex education & the facts of life (Children's / Teenage)