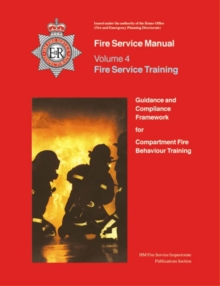 Fire Service Manual 4: Fire Service Training - Guidance and Compliance Framework for Compartment Fire Bahaviour Training
0113412525 / 9780113412525
Usually dispatched within 2 weeks
This document offers guidance to Chief Fire Officers and Firemasters, as well as Brigade Training Officers and training providers in the effective delivery of Compartment Fire Behaviour Training (CFBT).
The information should help to ensure that a systematic process is undertaken in determining the type of training to be provided.
There are a variety of methods of providing CFBT, each has advantages, disadvantages and limitations.
BIC:
* Variable discounts between 0% and 15% are applied to items where BBfS cannot determine exact discounts from suppliers.