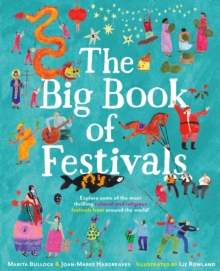 The big book of festivals (UK edition)
0571370225 / 9780571370221
30 cm 64 pages : illustrations (colour), map (colour)
Reprint. Originally published: Sydney: Lothian Children's Books, 2021. Map on lining papers.
Explore some of the most thrilling cultural and religious festivals from around the world!From Diwali, the Indian festival of light, to the Spanish tomato-throwing festival La Tomatina, to the Belgian Festival of Giants, this book is the perfect introduction to some of the world's most incredible cultural and religious celebrations. Exquisitely illustrated by Liz Rowland, every page is packed with fascinating fun filled facts!Some festivals are outrageously joyful, others are more serious.
All of them bring people together to mark the big events in life.
So dive into this riotous explosion of colour as we feast, sing, cry and celebrate the diversity of festivals and traditions this wonderful world of ours has to offer. 'Gorgeous.' Reading Time'Perfect for young children . . . to introduce them to diverse celebrations and cultures.' Read Me Another Story'Incredibly immersive.' Indian Link
BIC:
5AH Interest age: from c 7 years, YNG General knowledge & trivia (Children's / Teenage), YNM People & places (Children's / Teenage), YNR Religion & beliefs: general interest (Children's / Teenage)