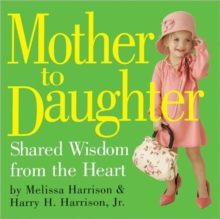 0761137920 / 9780761137924
She brims with curiosity, enthusiasm, and often joy.
She has an independent spirit to nurture, values to shape. And through every step, it's her mother - who knows just how she feels - who is her guide.
From Melissa Harrison, because only a mother knows, and Harry Harrison, author of the chunky bestsellers "Father to Son" and "Father to Daughter" comes "Mother To Daughter", a pithy book of wisdom and inspiration.
Divided into sections including The Bonding Years, The Awkward Years, Girls and Success, Girls and Spirituality, and (of course!) Girls and Boys, the book offers one succinct lesson per page.
Finally - tell her now much joy she's brought into your life. And when it's time - let her go.
BIC: