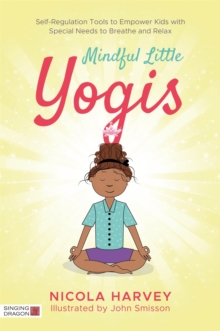 Mindful little yogis : self-regulation tools to empower kids with special needs to breathe and relax
1848194048 / 9781848194045
23 cm 168 pages : illustrations (black and white)
Help children to master emotional self-regulation and improve wellbeing with these activities.
Based on traditional yoga breath and mindfulness exercises, each activity is adaptable for a range of abilities and they are also ideal for working with children with autism and other special needs. The book explains how being conscious of the breath is the key to unlocking calm during busy moments, and shows how this can be taught in a child-friendly way.
Including activities such as lion breathing, bubble breathing, and sensory yoga games, children will love to learn self-regulatory techniques they can carry with them for life.
Suitable for one-on-one and group work with children aged 4+.
BIC:
JNSG Teaching of students with specific learning difficulties / needs, VFJD Coping with disability, VXH Complementary therapies, healing & health