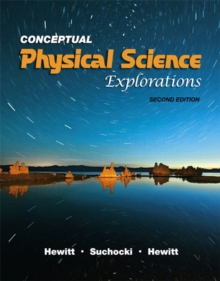 Conceptual Physical Science Explorations : United States Edition (2 ed)
0321567919 / 9780321567918
Usually dispatched within 4 weeks
216 x 275 mm, 1884 grams 864 pages
Focused on the idea that the rules of the physical world can be taught using a conceptual approach that emphasizes qualitative analysis, the Hewitt team has created a text that is highly readable, flexible, and hands-on.
Thirty-four concisely written chapters allow you to better select topics to match your course and the needs of your students in a one- or two- semester course.
Conceptual Physical Science Explorations, Second Edition presents a clear and engaging introduction to physics, chemistry, astronomy, and earth sciences.
The authors use analogies and everyday examples to clarify key concepts and help students better understand the world around them.
The textbook's consistent, high-quality coverage stimulates active learning with critical thinking exercises, hands-on experiments, review questions, and quantitative problems.
Conceptual Physical Science Explorations is less rigorous in coverage and written more simply than Conceptual Physical Science, Fourth Edition, and directed primarily to college courses where students are less well prepared, and in some cases, remedial. The Second Edition features updated content, new Chapter Opening statements, and more.
BIC: