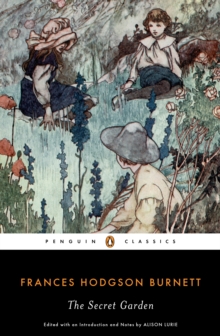 The secret garden
0142437050 / 9780142437056
Usually dispatched within 2 weeks
Mary Lennox has no one left in the world when she arrives at Misselthwaite Manor, her mysterious uncle's enormous, drafty mansion looming on the edge of the moors.
A cholera epidemic has ravaged the Indian village in which she was born, killing both her parents and the "Ayah," or Indian servant, who cared for her.
Not that being alone is new to her. Her socialite mother had no time between parties for Mary, and her father was both too ill and too occupied by his work to raise his daughter.
Not long after coming to live with her uncle, Mr. Craven, Mary discovers a walled garden, neglected and in ruins.
Soon she meets her servant Martha's brother Dickon, a robust country boy nourished both by his mother's love and by the natural surroundings of the countryside; and her tyrannical cousin Colin, whose mother died giving birth to him.
So traumatized was Mr. Craven by the sudden death of his beloved wife that he effectively abandoned the infant Colin and buried the keys to the garden that she adored.
His son has grown into a self-loathing hypochondriacal child whose tantrums strike fear into the hearts of servants.
The lush garden is now overgrown and all are forbidden to enter it.No one can even remember where the door is, until a robin leads Mary to its hidden key.
It is in the "secret garden," and with the help of Dickon, that Mary and Colin find the path to physical and spiritual health.
Along the way the three children discover that in their imaginations - called "magic" by Colin - is the power to transform lives.
BIC:
YFA Classic fiction (Children's / Teenage)
Prizes:
S 2003 BBC Big Read Top 100
* Variable discounts between 0% and 15% are applied to items where BBfS cannot determine exact discounts from suppliers.
Other Formats