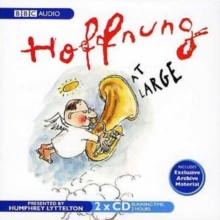 0563510323 / 9780563510321
Gerard Hoffnung was an artist, musician, broadcaster, raconteur - and genius.
A true Renaissance Man, the multi-faceted Hoffnung crammed a great deal into his tragically short span.
Using much previously unreleased archive material, this audio biography, presented by Humphrey Lyttelton, looks at every aspect of his life and career.
From his childhood in Berlin to his eventual fame as a musician and cartoonist, Hoffnung's unique comic vision shines through.
Here are golden moments from "Desert Island Discs", "One Minute Please" and "Saturday Night on the Light", plus recollections from friends, contemporaries and his widow, Annetta.
Contributors include - Ian Hislop, Harry Enfield, John Dankworth, Flanders and Swann, and even Colin Dexter, recalling Hoffnung the schoolmaster.
Sam Wanamaker and Joseph Horowitz remember the Hoffnung Festival Hall concerts, which featured compositions for vacuum cleaners, road rammers and a watering can. And, we hear Hoffnung in his own inimitable words, talking about his life, music and art...and telling the famous bricklayer story in his Oxford Union address. The perfect showcase for Gerard's many talents, this is an essential addition to any Hoffnung fan's collection.
BIC:
Title Unavailable: Out of Print