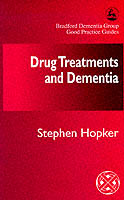 Drug treatments and dementia
185302760X / 9781853027604
This comprehensive book looks at the use of medication in dementia care.
It gives guidance on the drug treatments which are currently available to people with dementia, detailing how they can be used, and assessing their effectiveness.
It considers the clinical value of the new cognitive enhancing drugs like donezepil.
It also looks at the use of older drugs, describing the situation in the United States where controversy over the misuse of treatments such as antipsychotic medications in nursing homes has led to detailed and legally enforced controls over prescribing these drugs. Drug Treatments and Dementia highlights the need for evidence-based practice taking into account the full range of factors which influence the success or failure of a drug treatments.
It advocates the prescription of medication as just one part in a complete care reflecting the specific situation and needs of the person with dementia.
This guide will inform the practice of carers and clinicians and be of interest to anyone involved with the care or treatment of people who are affected by dementia.
BIC:
MJN Neurology & clinical neurophysiology, MMGW Psychopharmacology, MMH Psychiatry