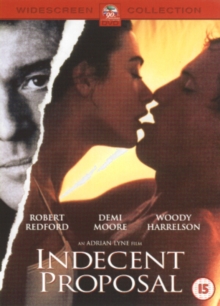 English, Arabic, Bulgarian, Czech, Danish, Dutch, Finnish, German, Hungarian, Icelandic, Norwegian, Polish, Romanian, Swedish, Turkish
(15) Suitable for 15 years and over.
Adrian Lyne directs this drama starring Demi Moore, Woody Harrelson and Robert Redford.
Down-on-their-luck couple Diana and David Murphy (Moore and Harrelson) head for Las Vegas in an attempt to win back some money.
When they lose at the tables, their only hope comes from rich gambler John Gage (Redford) who offers them one million dollars in return for one night alone with Diana.
Commentary: Adrian Lyne (director).