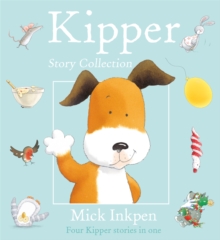 Kipper story collection
Part of the Kipper series
0340746769 / 9780340746769
23 cm [105]p. : chiefly col. ill.
Reprint. Originally published: 1998. Contents: Kipper - Kipper's toybox - Kipper's birthday - Kipper's snowy day. Author, Mick Inkpen.
Kipper first appeared on four legs in 1989 in the Mick Inkpen timeless picture book "The Blue Balloon".
The picture book, "Kipper", first published in 1991, made him the star of the show and he's been going from strength to strength ever since.
Kipper's world is a world where anything can happen and he has enormous child appeal.
He is a classic picture character now, loved by children the world over in the same way that Thomas the Tank or Peter Rabbit are loved.
In this delightful story collection, you will find the four classic Kipper picture books: "Kipper", "Kipper's Toybox", "Kipper's Birthday" and "Kipper's Snowy Day".
It is the perfect gift for Kipper fans or to introduce Kipper to a new fan!
There is a whole range of Kipper books to choose from: classic picture books, TV tie in picture books, novelty board books, sticker books, pop up books and much more.
Kipper is on CITV: the new animation series is due to broadcast in autumn 2000 with repeats of past series starting in the summer.
Kipper's animation series has been awarded the BAFTA award for best children's animation.
Kipper is everyone's favourite puppy!
BIC:
YBCH Picture books: character books, YFB General fiction (Children's / Teenage)