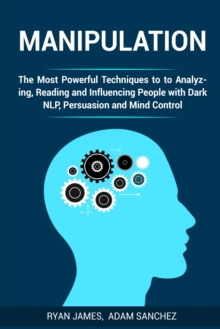 Manipulation : The Most Powerful Techniques to Analyzing, Reading and Influencing People with Dark NLP, Persuasion and Mind Control
1989120717 / 9781989120712
Usually dispatched within 4 weeks
152 x 229 mm, 277 grams 184 pages
Do you want to know what to look for when a manipulative person comes your way?
Would you like to gain a better understanding their methods to avoid getting involved in a manipulative relationship?
If learning the nuances of using mind control and nerve pathways to achieve the ultimate goal of success in life is something you want, then this book is for you.
Manipulation is a practice whereby you look into someone's natural psychological tendencies and use them to help you get your way. You learn how to understand what people want and need, and what drives them to make decisions. Then, you tailor your pitch or offer to get them to agree with you and give you what you want, while making it look like they were getting what they want! Ultimately, you lead the conversation by making it look like they are. In this book, you are going to learn exactly how to do this. We will explore ways to use these techniques and more in order to discuss how to influence others to assist us in reaching our personal goals.
This book will let you learn-
The Right Way to Disagree Without Sounding Disagreeable
Proven Techniques to Manipulate and Brainwash Anyone
How To Identify Different Personality Types

How to

Effectively Read Body Language
How to Understand Someone Else's Thought Pattern

A Simple Yet Effective Process to

Re-brand Yourself

to Be More Likeable

Same techniques the most successful FBI agents use on a daily basis
No discussion of mind control and manipulation would be complete without a discussion of Neuro-Linguistic Programming. NLP is used by many professionals and others to teach people different ways to properly program the mind to be successful in setting and achieving personal goals.
This book covers all these topics and more. It is the consummate book for anyone who wishes to learn new ways to engage in controlling their own minds and the minds of others and in using techniques to live a successful life. If you are one of them,
then buy and get your copy of this book.
BIC:
GBC Reference works, JM Psychology, JML Experimental psychology, JMS The self, ego, identity, personality, MMJT1 Cognitive behavioural therapy, VXM Mind, body, spirit: meditation & visualisation