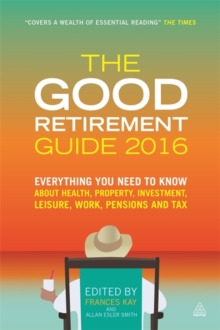 The good retirement guide 2016 : everything you need to know about health, property, investment, leisure, work, pensions and tax
0749475013 / 9780749475017
Whether it is a relaxing or action-packed and financially rewarding retirement in the UK you are looking for, this is the book for you.
Life's story gives us the first chapter of the education years, the second chapter is working 'nine to five' and now it is time for the best chapter of the lot - the non-retirement years.
Personal ambitions can be realized and new experiences enjoyed.
Yet with so much to consider, people are often unsure how best to plan for their future and the scope for concern and confusion is even greater with changing retirement ages and pension rules.
The Good Retirement Guide offers clear and concise suggestions on a broad range of retirement-related subjects.
The Guide includes information on:Pensions/ Tax / Investment / Starting your own business / Leisure activities / Paid work / Voluntary work / How to avoid being scammed / Health / Holidays / Looking after elderly parents / Wills Revised and updated, the 2016 edition is packed with hundreds of useful suggestions and helpful websites to browse.
This is an indispensable book that you will refer to again and again.
BIC:
The title has been replaced.To check if this specific edition is still available please contact Customer Care +44(0)1482 384660 or schools.services@brownsbfs.co.uk, otherwise please click 9780749478674 to take you to the new version.
Title Unavailable: Out of Print