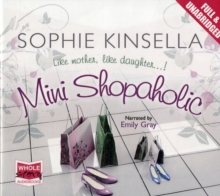 Mini Shopaholic (Unabridged ed)
1407440128 / 9781407440125
Usually dispatched within 4 weeks
This is the new novel in the fabulously popular Shopaholic series from this number one bestselling author.
Becky Brandon thought having a daughter was a dream come true - a shopping friend for life!
But two-year-old Minnie has her own chaotic approach to shopping.
On top of motherhood, there's the financial crisis, and even Becky's personal shopping clients have to cut back.
Join Becky to find out who will get a gold star, and who will end up on the naughty step...This recording is unabridged.
Typically abridged audiobooks are not more than 60 per cent of the author's work and as low as 30 per cent with characters and plotlines removed.
BIC: