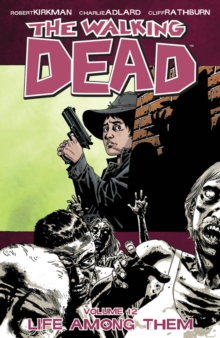 Life among them
1607062542 / 9781607062547
Stock expected by 01/02/2022
26 cm ca. 100 p. : chiefly ill.
Cover title. Cover title.
The world we knew is gone. The world of commerce andfrivolous necessity has been replaced by a world of survival and responsibility. An epidemic of apocalyptic proportions has swept the globe, causing the dead torise and feed on the living.
In a matter of months society has crumbled: nogovernment, no grocery stores, no mail delivery, no cable TV.
In a world ruledby the dead, the survivors are forced to finally start living. At long last, the survivors of Robert Kirkman and Charlie Adlard's acclaimedpost-apocalyptic survival adventure find the hope they've longed look for.
Can atown not yet ravaged by the horrors unleashed on Earth possibly be all it'shoped for?
Is there a far more sinister secret behind their newfound safe haven?Even worse, can people forever changed by the worst in humanity ever hope to getback to their old selves?
The next chapter of The Walking Dead is primedto change everything!Reprint Edition
BIC: