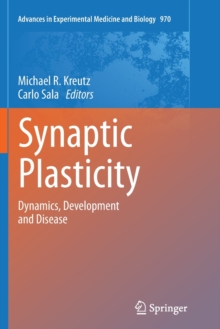 Synaptic Plasticity : Dynamics, Development and Disease (2012 ed.)
3709117321 / 9783709117323
Stock expected by 17/07/2020
155 x 235 mm, 955 grams 622 pages, X, 622 p.
This book introduces the current concepts of molecular mechanisms in synaptic plasticity and provides a comprehensive overview of cutting-edge research technology used to investigate the molecular dynamics of the synapses.
It explores current concepts on activity-dependent remodeling of the synaptic cytoskeleton and presents the latest ideas on the different forms of plasticity in synapses and dendrites.
Synaptic Plasticity in Health and Disease not only supplies readers with extensive knowledge on the latest developments in research, but also with important information on clinical and applied aspects.
Changes in spine synapses in different brain disease states, so-called synaptopathies, are explained and described by experts in the field.
By outlining basic research findings as well as physiological and pathophysiological impacts on synaptic plasticity, the book represents an essential state-of-the-art work for scientists in the fields of biochemistry, molecular biology and the neurosciences, as well as for doctors in neurology and psychiatry alike.
BIC:
MJN Neurology & clinical neurophysiology, PSAN Neurosciences