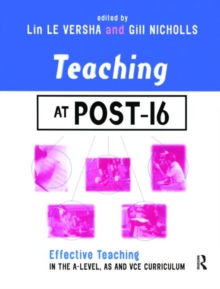 Teaching at post-16 : effective teaching in the A-level, AS and VCE curriculum
0749433485 / 9780749433482
postgraduate Learn More
research & professional
undergraduate
The A-Level, AS and GNVQ syllabuses launched in 2000 are becoming a reality for all teachers and trainee teachers.
The post-16 sector is the focus of great change in education and this manual provides all teaching professionals with a guide to exploring and developing successful teaching in this new environment.;Including contributions from education experts and subject specialists, the book addresses the issues that face teachers at post-16.
It seeks to guide readers through the requirements in a simple and accessible way; looks at teaching and learning issues in detail; and considers the professional development of those teaching at this level.
BIC:
Title Unavailable: Out of Print